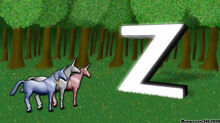 Z is some guy who is a letter. He is the lowest ranking member of ABCDEFGHIJKLMNOPQRSTUVWXYZ.
History
Z lives with his fellow letters, but often hides under his bed. Nobody knows who came up with Z, but everyone knows that Z is dumb. He has never done ANYTHING with his group. He was killed by M, but then he came back to life four seconds later because somehow he got ahold of a 1-Up Mushroom. The only time he does anything notable is in the Shame: Z's Only Adventure. He also appears sometimes whenever someone is depicted being asleep. This is called "catching Z's".
Personality
Z is a dumb wimp that does nothing. He basically stumbles around trying to stay behind the rest of the crowd, kinda like that one kid back in 7th grade during P.E. Wait, you know what? That's a very generic personality. So, I'm going to change it. Here's the new one: "Z is the coolest letter that has ever existed because he is Z." No, let's just stick with the old one. Yeah Z is dumb.
Ad blocker interference detected!
Wikia is a free-to-use site that makes money from advertising. We have a modified experience for viewers using ad blockers

Wikia is not accessible if you've made further modifications. Remove the custom ad blocker rule(s) and the page will load as expected.