You is quite simply... You! That's right, You! The ugliest guy in Stupid City!


You have apparently been to a lot of places, seen many things and many things seem to revolve around You.
Probably most of your life so far has been boring and useless, but don't worry, it might get better. It probably won't though.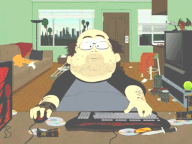 Your Mom is your mother. (Duh) Also, Ducky probably is your father! Or Dark Ducky is...or maybe it's Squadala Man...or Weegee...or somebody...I don't know... or John McCain. Perhaps it's AINAI... maybe even nobody.
You could also be...... ME!!!
You are just sitting in your chair like a complete jerk. Why don't you get out of your house and enjoy some sun? Or go relax on the beach?
Ad blocker interference detected!
Wikia is a free-to-use site that makes money from advertising. We have a modified experience for viewers using ad blockers

Wikia is not accessible if you've made further modifications. Remove the custom ad blocker rule(s) and the page will load as expected.