WARNING: YOU ARE ABOUT TO ACCESS INFORMATION CLASSIFIED BY THE UMBRELLA CORPORATION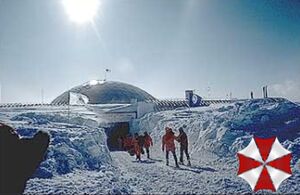 The Umbrella Antarctica Base is a TOP SECRET base in a CLASSIFIED LOCATION. It was secretly built by Dr. Van Nostrand to punish The Janitor because Dr. Van Nostrand's friend's uncle died from exposure to deadly compounds. He base was also built to store CLASSIFIED.
Employees
CLASSIFIED
CLASSIFIED
CLASSIFIED
The Janitor

This article is a stub. It doesn't appear in dictionaries so we're gonna say it's spongy instead of high in density. You can help UnAnything Wiki by eating yourself and spitting lotsa spaghetti text. If this page is not dense enough, it could be placed into the acid lake.
Ad blocker interference detected!
Wikia is a free-to-use site that makes money from advertising. We have a modified experience for viewers using ad blockers

Wikia is not accessible if you've made further modifications. Remove the custom ad blocker rule(s) and the page will load as expected.