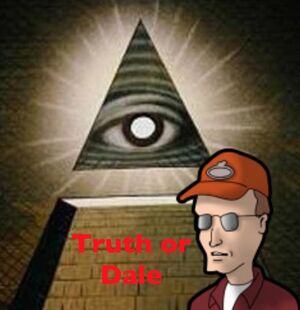 Truth or Dale
is a show on
History Channel
that stars
Dale Gribble
, as he ties to solve conspiracy theories.
Creation
When the Ancient Aliens Guy saw how crazy Dale was after The Great Pumkin War, he knew he had to give him a TV show. So he called the Church of Scientology and pulled a few strings. Then Dale officially had a show.
The Obama Scandal
On episode 25 of Truth or Dale, Dale found out that Obama was using a fake birth certificate the whole time. Obama denied this, but every one knew that Obama was a fraud. This claim gave the show a huge rating boost.
Today
Today the show has a following bigger than most religions.
Ad blocker interference detected!
Wikia is a free-to-use site that makes money from advertising. We have a modified experience for viewers using ad blockers

Wikia is not accessible if you've made further modifications. Remove the custom ad blocker rule(s) and the page will load as expected.