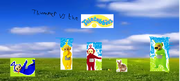 Thumper Vs. The Teletubbies is a hit action movie written and directed by Nobody and distributed by Dinner Pictures. It is about Thumper trying to KILL THOSE STUPID TELETUBBIES! The movie made over $1,000,000, but Thumper died by the time the movie was published, so Rich Guy got the money.
Plot
The movie starts with Po kicking Thumper and saying "You're stupid!" Then, Thumper pulls out a Magnum. Captain 0 comes up to stop him, but Thumper shoots Captain 0. While Captain 0 regenerates, Thumper shoots down Po. The other Teletubbies come out, so Thumper shoots them too. The movie ends with the screen saying "Don't Mess With Thumper".
Characters
Reception
Everyone loved this movie because someone got shot. It made over 1,000,000 UnDollars, and was nominated for 100 different awards (though it didn't win any). Overall, it sucked.
DVD and Digital Download Release
The movie was released to DVD and Digital download. It included the bloopers of the movie, and some deleted scenes.
Trivia