Squadala Doom
is FPS shame for
Game Boi
. This shame was released by
Squadala Enix
.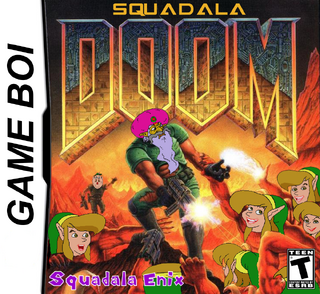 Story
The Shame takes place on Mars in 2100s. Here, Mars currently belongs to the Squadala Empire and Squadala Man wants to visit his base.
Suddenly, All his base start belong to Hyrule. Squadala Army returned the base, but they opened a portal to Hell. Millions of Links came out of portal and everybody starts to DIE!!!
When Squadala Man arrived, the base was ruined. He picked up an armor bonus and a pistol and started cleaning up the hellspawn.
Gameplay
Actually, Squadala Doom is a total conversation mod for Doom, but nobody cares. You play as Squadala Man and shoot everything. Sometimes you can use your brains to solve puzzle, but most of players use guns.
Weapons
Squadala Fists - The Original fists of Squadala Man. Useless.
Squadala Pistol - A 99-Caliber Gun. Very small and weak.
Squadala Shotgun - Good weapon which can kill a monster.
Squadala Machine Gun - Machine Gun stolen from Heavy.
Solar Ray Gun - British Pistol which can turn Links' hats against them.
Bombs - Can explode a wall of head.
Morshu's Rocket Launcher - Very strong agains big guys.
Dinner Blaster - Very strong against fat guys.
Rope - Weak, but can stun enemies.
Magnum - Secret Gun which has instakills.
LAZOR - This weapon only avalible through the hacking. It was cut because it kills final boss in one shot (Magnum kills in two shots).
Power Ups
Armor - the medieval armor of King Arthur. Falls off after one touch.
Life Bonus - Medic appproves!
Lamp Oil - Make you mad after drinking. Squadala Fists kill everything in one hit.
Reception
Many shamers call Squadala Doom a "cult shame". ISN rated it 10/10, ArcadeHobo rated it a yippe-yay 9/10, ShameMovies rated it 9.9/10.
Shame had two sequels: Squadala Doom II and Koridai Doom.
Rating
ESRB - Teen (Violence, Animated Blood, Mild Language)
PEGI - 12+ (Violence)
Squadala Ratings - 3+
Ad blocker interference detected!
Wikia is a free-to-use site that makes money from advertising. We have a modified experience for viewers using ad blockers

Wikia is not accessible if you've made further modifications. Remove the custom ad blocker rule(s) and the page will load as expected.