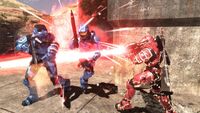 The Spartan Laser (also called the Spartan Lazor, the Super Gun, and the Amazing legendary Energy Blast Generator that will disintegrates those alien freaks to a fire) is an energy beam firing weapon commonly used by Master Chief when he needs to disintegrate stuff, and the Teletubbies on an occasional basis.
The Spartan Laser is manufactured by Spartan weapon makers. It is based around a battery in a metal shell. It is then encased in pure epicness. They then use their mail-rockets to deliver the weapons to whoever can afford them.
Price
Gun: $10,000,000
Metal shell: $5,000,000
Plasma battery: $1,000,000 per battery (it takes 2 batteries just to use the gun, and they burn out in seconds)
Trigger Attachment Fee: $1,000,000
Optional Payment: $8,185,184.51
Shipping: $1,623,444
Handling: $18,251
Purchasing Fee: $918,516
Paying them money fee: $1,234,567
Total: $999,999,999,999,999,999,999,999,999,999,999,999,999,999,999,999,999,999,999,999,999.99 NOT
Ad blocker interference detected!
Wikia is a free-to-use site that makes money from advertising. We have a modified experience for viewers using ad blockers

Wikia is not accessible if you've made further modifications. Remove the custom ad blocker rule(s) and the page will load as expected.