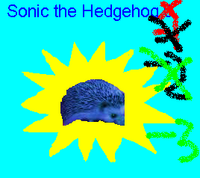 Sonic the Hedgehog -3 is the shame created when SEGA got bored with their current Sonic shames. It takes place before Sonic the Hedgehog -2.
Shameplay
This shame takes place while Sonic is at the park. He gets bored and decides to go swimming. He jumps in the lake. Then, he realizes he can't swim. It is the player's job to get him out without drowning him.
This shame is impossible, as Sonic can not swim, and there are no air bubbles in this shame.
Reception
Chuck Norris, the only person who played this shame, loved it because Sonic dies in it.
Ad blocker interference detected!
Wikia is a free-to-use site that makes money from advertising. We have a modified experience for viewers using ad blockers

Wikia is not accessible if you've made further modifications. Remove the custom ad blocker rule(s) and the page will load as expected.