Santa Clause

Fightin'EEEEVVIIIIIL

Species:
Mermaid
AKA:
Mermaid Man, DUMBLEDORE
Likes:
Destroying EEEEVVVVIIIIIILLLLL
Dislikes:
EEEEEEEEEEVVVVVIIIIIILLLLL
Santa Clause is a 1,042 year old wizard who lives in Hogwarts. He is the president of Christmas and the owner of over a thousand slaves elves. He is married to Mrs. Claus.
Life
Santa Claus was created by Jesus so kids would care about his birthday. Jesus then created elves to do all of Santa's biddings. Santa built his workshop from baby polar bears and penguin eggs. PETA did not like this. In 1356, it was becoming harder for him to deliver Christmas presents, so he made a sled that ran on nitrous and rockets. He installed Jarvis in his sled to assist him while delivering lame presents for kids. In 1523, he built a larger factory make more toys for mid evil brats. In 1926, Santa was hit hard by the great depression, and lost lotsa money. Today he is suffering from the lack off kids believing in him.
SO YOU STUPID KIDS BETTER BELIEVE IN SANTA, OR ELSE HE WILL DIE!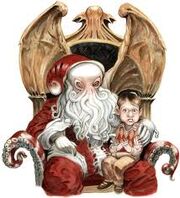 Ad blocker interference detected!
Wikia is a free-to-use site that makes money from advertising. We have a modified experience for viewers using ad blockers

Wikia is not accessible if you've made further modifications. Remove the custom ad blocker rule(s) and the page will load as expected.