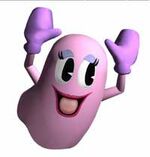 Pinky is the crappiest ghost in the world. She is also one of the evilest, tied with the other ghosts. She flies around, and tries to attack Pac-Man. This is because of the Maze-Ghost Effect.
Pinky was once a woman who did stuff. Then she died when her hot air balloon blew up. She became a ghost named Pinky. This is because she was pink. Nobody knows how she was a pink ghost, but she was, so that's why it's her name.
She can fly around, and always tries to eat Pac-Man. Nobody knows why. SO DON'T ASK!
Ad blocker interference detected!
Wikia is a free-to-use site that makes money from advertising. We have a modified experience for viewers using ad blockers

Wikia is not accessible if you've made further modifications. Remove the custom ad blocker rule(s) and the page will load as expected.