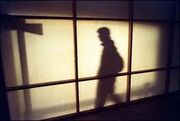 "CUT OFF HIS CBEEBIE!"
- Kodomo ordering a minion to cut off a victim's Cbeebie
"I SHALL CUT OFF HIS CBEEBIE!"
- The minion answering
Kodomo The Torturer is the lead torturer in The German Prison. He is the manager of the 5th level of the prison, where he orders his minions to torture prisoners for no apparent reason, other than to get enjoyment out of their pain. He greatly dislikes his name.
Personality
Kodomo is possibly one of the most calm characters in the UnVerse. He very rarely smiles, and he is stone cold, simply asking his minions to torture without second thought. He very rarely gets emotional, but he does care for his henchman, as proven when one of them accidentally fell into a vat of neurotoxins.

This article is a stub. It doesn't appear in dictionaries so we're gonna say it's spongy instead of high in density. You can help UnAnything Wiki by eating yourself and spitting lotsa spaghetti text. If this page is not dense enough, it could be placed into the acid lake.
Ad blocker interference detected!
Wikia is a free-to-use site that makes money from advertising. We have a modified experience for viewers using ad blockers

Wikia is not accessible if you've made further modifications. Remove the custom ad blocker rule(s) and the page will load as expected.