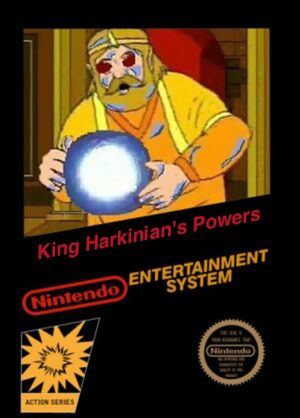 King' Harkinian's Powers
is a
Shame
for the
Nintendo Entertainment System
and
Super Nintendo Entertainment System
about
King Harkinian
obtaining magical powers that allow him to kill the traitors of his kingdoms.
Plot
Ganon shot the king with his magic,a lightning bolt, but it did not kill him, instead, it gave him all of Ganon's powers. But the king did not just obtain his power, he also obtained his evil! Now the King is killing everyone in Hyrule.
Shameplay
You play as The King, and you go around blowing people's heads up, or turning them inside out.
Ad blocker interference detected!
Wikia is a free-to-use site that makes money from advertising. We have a modified experience for viewers using ad blockers

Wikia is not accessible if you've made further modifications. Remove the custom ad blocker rule(s) and the page will load as expected.