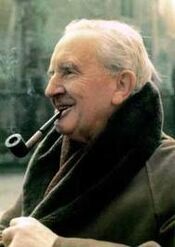 J.R.R Tolkien was a man with a dream. A dream that one day, all hobbits and dwarves and wizards would come together and defeat the evil lord Sauron, the ruler of The Ring. In this dream Tolkien concieved the perfect plan. To put his plan into action, he wrote down on paper, the words which started his revolutionary conspiracy, "In a hole in the ground there lived a hobbit..." With these words, Tolkien started an entire epic fantasy trilogy, sent to a message to all hobbits and dwarves and wizards to gang up and face their fears, and their inner demons. This is the story, of Tolkien, a man with a dream.
Early Days
Tolkien was born in Southern England in the midst of the Cold War of 1923. Tolkien was raised in a fairly tame house, but his childhood was far from tame. He was not abused by his parents, but they always had to go off to the army, leaving Tolkien to be beaten by his mentally enstranged grandmother.
At the age of 10, Tolkien began to take an interest in reading, and succeeded in finishing reading "The Divine Comedy" by the time he was 12. He eventually discovered a fantasy book, simply titled "Hobbits", which took his interest. After reading it, Tolkien was amazed. He was horrified about all the pain that hobbits were put through in their miserable lives, how all the fantastical people were tossed aside in favor of "normal" humans.
Tolkien nearly crushed the book in his hands. Through sleepless nights of thinking about this book, when he finally fell asleep in his room, he dreamed. A dream which involved the perfect plan.
Under Construction...