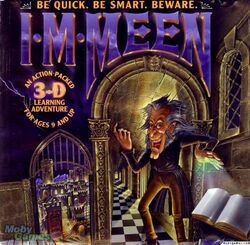 I.M. Meen
is a shame released for PC and
Game Boi
. These versions are entirely different. They are both about
I.M. Meen
.
PC Version
I.M. Meen is a educational shame about I.M. Meen. It was developed by CD-i creators.
I.M. Meen trapped two children in his book. They must ruin the book inside and defeat I.M. Meen.
In this shame you control a goody-goody and you gotta help him. Child must defeat all enemies and fix the typos in developer's text logs.
The final boss is I.M. Meen which text containds OVER 9000 TYPOS.
The reviewers called shame "not bad" and it sold in 500 copies.
Game Boi Version
I.M. Meen is an action shame where you control I.M.Meen and must murder every child/goody-goody.
The description of this shame was banned by ESRB and PEGI
This shame was declared illegal by ESRB and PEGI and they banned every copy. Only two copy was bought (one by The scratch cat and the other by nobody) and I.M. Meen HATES this!!! It is reported that Rebecca Black starred in it but FAILed
Ad blocker interference detected!
Wikia is a free-to-use site that makes money from advertising. We have a modified experience for viewers using ad blockers

Wikia is not accessible if you've made further modifications. Remove the custom ad blocker rule(s) and the page will load as expected.