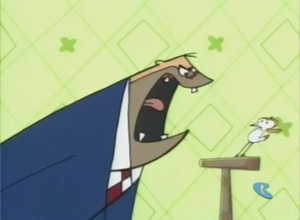 Hollywood is the guy who hates when there is something wrong. He admits it's cute, but this feeling is easily overshadowed by his rage. He is a businessman who wears a huge blue suit. He has a bird merely named The Bird. Hollywood owns different buildings (schools, pet shops, zoos. etc.) which can make money for him.
Some people says that he is a partner of The Infamous Paper Doll Man. But Hollywood says that it's wrong.
Hollywood invented the Mini Piano. While it is obviously a very small piano, Hollywood cannot use it well thanks to his large fingers.
He is also known for his infamous attack on the government of every country in the world. Every country in the world then proceeded to arrest him, but then they started fighting over who's jail he would be put in. Eventually, he slipped away, the countries forgot what they were fighting about, and everything turned out alright.
Ad blocker interference detected!
Wikia is a free-to-use site that makes money from advertising. We have a modified experience for viewers using ad blockers

Wikia is not accessible if you've made further modifications. Remove the custom ad blocker rule(s) and the page will load as expected.