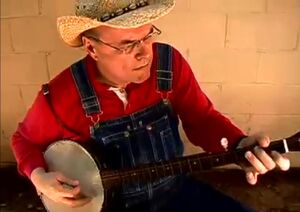 The Hillbilly is one of three villians in the Angry Video Game Nerd episode Texas Chainsaw Massacre, alongside Leatherface and Chop Top.
Texas Chainsaw Massacre
The Hillbilly is first seen playing a banjo and singing while selling video games under his shed. The Nerd then arrives and bargains with him over the price of a rare Atari 2600 game, Texas Chainsaw Massacre. The Hillbilly then makes a deal with the Nerd: for $150, he will give the Nerd Texas Chainsaw Massacre bundled with another game, later revealed to be Halloween, another rare Atari 2600 game. The Nerd accepts the offer, and takes the games back to his house, where he reviews Texas Chainsaw Massacre.
Later, when the Nerd is being chased by Leatherface, the Nerd goes back to the Hillbilly and asks him for help. The Hillbilly then reveals himself to be one of the villains as well by distracting him and knocking him out with his banjo. He then drags him inside the shed and ties him up. When the Nerd regains consciousness, the Hillbilly gags him with a chicken, and with Chop Top and Leatherface, they force him to continue playing Texas Chainsaw Massacre. Unable to cope with the situation, the Nerd breaks free of his bounds, and the Hillbilly is last heard prompting Leatherface to catch the Nerd.
Ad blocker interference detected!
Wikia is a free-to-use site that makes money from advertising. We have a modified experience for viewers using ad blockers

Wikia is not accessible if you've made further modifications. Remove the custom ad blocker rule(s) and the page will load as expected.