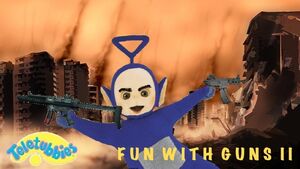 Fun With Guns II
is the 125th episode of the
Teletubbies (TV Series)
. In this episode, the
Teletubbies
get recruited into RED and BLU for their killing skills. 
Fun With Guns
 2 Is The Nickname
Plot
The Teletubbies were discovered to be expert Team Fortress 2 players. (Who knew?) Anyway, the Teletubbies were put on Blu and Red based on colors, that is why only Tinky Winky and Po are in this episode. Heavy Weapons Guy on Blu is one of the first guys to due because he is too busy making a sandwich. In the end, Po kills everyone, even her own team mates.
Reception
Many parents found this episode disturbing and violent.
Ad blocker interference detected!
Wikia is a free-to-use site that makes money from advertising. We have a modified experience for viewers using ad blockers

Wikia is not accessible if you've made further modifications. Remove the custom ad blocker rule(s) and the page will load as expected.