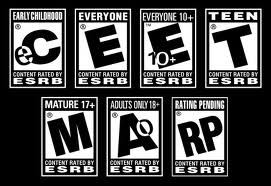 The
Easily Stupid Rating Blockheads
, otherwise known as the
ESRB
, is a group of people that
don't
rate shames on how good they are. Needless to say, they generally suck at their job. Bad.
History
The ESRB started after Nintendo whined about how Mortal Kombat and other violent video shames were inappropriate for general audiences. It started back in 45 B.C. They have rated over 454,656,565 shames and 43 tacos.
People
Ratings
Other Ratings
Trivia
Ad blocker interference detected!
Wikia is a free-to-use site that makes money from advertising. We have a modified experience for viewers using ad blockers

Wikia is not accessible if you've made further modifications. Remove the custom ad blocker rule(s) and the page will load as expected.