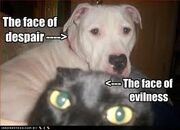 Dogs are a race of creatures made by God to act like something contrary to cats. They don't have nearly as much super powers as the cats do, but they may come in larger sizes.
Dogs in General
Why is this here? This is what that first paragraph is for. Read it, then get a life. Wait... I guess you have to be alive in order to read this.
Super Powers
Annoy
Dogs can annoy people by their loud barks.
Bite
They can bite butts. They can also eat butts.
Being stupid
They eat their own-NOTHING! Nothing! :D
Sniff their own butt
They can sniff their own butt.
Famous Dogs
Ad blocker interference detected!
Wikia is a free-to-use site that makes money from advertising. We have a modified experience for viewers using ad blockers

Wikia is not accessible if you've made further modifications. Remove the custom ad blocker rule(s) and the page will load as expected.