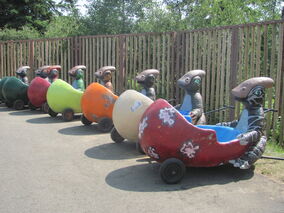 Dinosaur World
is a unique country in
Africa
. It is unique in the fact that it is one of the only nations to house are large variety of dinosaurs, most of which are extinct.
History
Dinosaur World was worldwide before anyone was born (except for the Undefeatables). Dinosaurs ruled the world. Eventually, a gigantic meteor came in, and blew up almost every dinosaur. Only the ones in Africa, who had a bomb shelter prepared, survived.
The dinosaurs eventually grew stupid as the humans came in, and decided it was their turn to take over. Some of the humans were generous enough to make a reservation for these dinosaurs. They were actually just scared of the dinosaurs, but Nobody said that.
The dinosaurs now live in Dinosaur Land, because it is awesome for dinosaurs here. It is just another dangerous location that can be found in the dreaded UnUniverse.
Trivia
Ad blocker interference detected!
Wikia is a free-to-use site that makes money from advertising. We have a modified experience for viewers using ad blockers

Wikia is not accessible if you've made further modifications. Remove the custom ad blocker rule(s) and the page will load as expected.