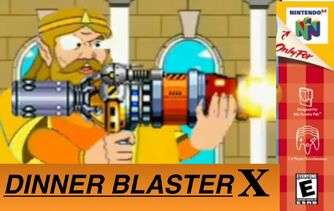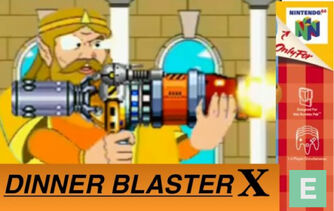 Dinner Blaster X is a shame and a spin off of the Dinner Blaster series. It takes place ten years after Dinner Blaster 5: Diner Mayhem, the final shame in the main series. Dinner Blaster X is about how King Harkinian invented a new DINNER based weapon, and used it too!
Shameplay
To play this shame, the player must start by screaming at the screen. It is impossible to continue through the shame, as it can not tell when you are actually screaming. Chuckles the Cheat has figured out how to bypass this, but he ain't tellin'.
Characters
King Harkinian: The only character, as it is impossible to play any farther.
CHEESE
Reception
The only people who gave any opinion on this shame were Chuckles the Cheat, Chuck Norris, and King Harkinian. Chuckles hated it. Chuck thought it was stupid. But the King loved it! The shame received a 9/10 on every rating it has ever received.
Rating
Ad blocker interference detected!
Wikia is a free-to-use site that makes money from advertising. We have a modified experience for viewers using ad blockers

Wikia is not accessible if you've made further modifications. Remove the custom ad blocker rule(s) and the page will load as expected.