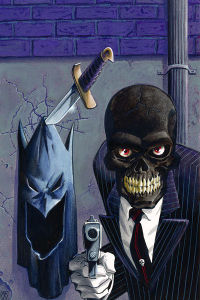 Creepy Mask Man is a mob boss in Possum City. He is considered the most dangerous mob boss, as he is one of the best. He is nearly un-kill-able, as the ghosts of his ancestors give him power or something. Whenever he dies, his face gets even uglier, and he gets up again.
Originally, his mask was just a mask, but it merged to his face. That's why he's so ugly.
He has made many attempts to gain complete control over Possum City, all foiled by a fat loser.
He wants to be allies with This is Bob, but he rejected the alliance because he yelled "F*** NO!!!! I WANT TO BE THE ONLY MAN WHO IS AGAINST EVERY LIVING BEING!!!!" in front of Creepy Mask Man's face, and was kicked in the @$$.
So instead, he decided to team with Googolplex and join his empire. That's right, Creepy Mask Man is a satanist now. He bows down to Googolplex and prays to Satan 24/7!
The only time he died was when he bet OVAR 9000!!!1 UnDollars that he could beat Chuck Norris in a staring conetest. However, when Creepy Mask Man was about to win, Chuck Norris used Real Life Mods so he spawned 50 extra eyes and they all stared Creepy Mask Man to death. Finally.
Did I Mention?
THIS GUY IS UGLY!
History
In 1928, Farnold Stemminson and Petunia Fifteah had a baby. At first, He looked like a man an eagle had just killed, so the first reaction his father was to him was "KILL IT BEFORE IT LAYS EGGS!!!" and proceeded to use a Desert Eagle to shoot him. He survived for no reason. In 1930, He met his brother, The Guy Who Asks Too Many Questions and bullied him ever since. In 1942, age 14, he went to high school. It didn't go very well. He LIT THE TEACHER ON FIRE RUN FOR YOUR LIIIIIIIIIIIIIIIIIIIFE!!!! In 1945, age 17, he got his GUN!! SERIOUSLY WHAT KILD OF DRUNK PARENTS WOULD GIVE THEIR SON A GUN?! WJYGFGYUEWTUHVUT3Q8C35398NU349N8
Ad blocker interference detected!
Wikia is a free-to-use site that makes money from advertising. We have a modified experience for viewers using ad blockers

Wikia is not accessible if you've made further modifications. Remove the custom ad blocker rule(s) and the page will load as expected.