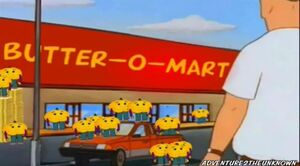 Butter-O-Mart
was a store/base set up in
Arlen
by the
Pumkins
to sell
butter
during
The Great Pumkin War
. It eventually was destroyed.
Importance
During the Pumkin's dominance in Arlene, this place was set up as a base/store to serve the Pumkins. Unfortunately, this base lead to their downfall. Hank Hill lead a rebel attack to the base that forced the Pumkins to retreat from Arlen.
Ad blocker interference detected!
Wikia is a free-to-use site that makes money from advertising. We have a modified experience for viewers using ad blockers

Wikia is not accessible if you've made further modifications. Remove the custom ad blocker rule(s) and the page will load as expected.