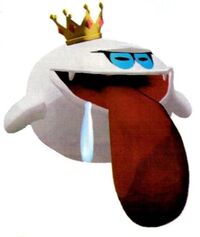 Mario would like to have your Big Boos!
—Mario's Game Gallery

A boo is a ghost-like creature that haunts Bowser's Castle. Boos are some of the scariest creature that are used by Bowser, even though they are on average four feet tall. The boos are currently the most hated creature that walks/hovers the Earth.
Boos are created when a criminal gets shot by an AK-47 by Bowser while the criminal is in the middle of a bank robbery, while a chicken is overseeing the whole thing. The ghost of the criminal becomes a boo. As you may have noticed, it is difficult to create a boo, so that is why Bowser is always shooting bank robbers.
The leaders of the boos are King Boo and Queen Boo. However, Bowser is their boss, so he controls all boos. Bowser's awesomeness is the main thing that can keep the boos under control. Only the Undefeatables can control boos instead of Bowser.
Ad blocker interference detected!
Wikia is a free-to-use site that makes money from advertising. We have a modified experience for viewers using ad blockers

Wikia is not accessible if you've made further modifications. Remove the custom ad blocker rule(s) and the page will load as expected.