Blast Off

Blast Off, the Astrologic right arm of Bruticus Maximus

Gender:
Male
Eye color:
Sometimes gray, sometimes lavender
Species:
Robot
Home:
South Brazil, was born on Cybertron
AKA:
Astrologic Astronaut (According to Onslaught, his boss)
Likes:
Going into space 24/7. Doing both astronomy and astrology.
Dislikes:
Doing biology.
Education:
NA
Occupation:
Astronaut, Astronomer, Astrologist, Spy
Known For:
Being the guy who goes into Space 24/7.
Quotes
Gallery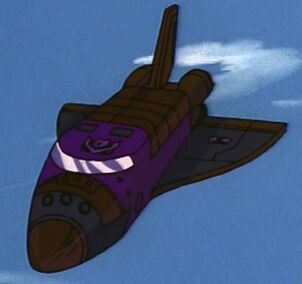 Blast Off is one of the five components of 
Bruticus Maximus
, he forms the right arm (As 
Vortex
 forms the right arm). He's BFF's with 
Brawl
, who a greedy sellout.
He turns into an space shuttle, but that's very obvious when you just look at his name and what he does for a living.
Blast Off's dream is to be the "astronaut" who goes into Space 24/7. He also wishes to be the first astronaut who is a SPY, which he is.
He and the rest of the components of Bruticus formerly worked for both Bowser and Megatron, but the five betrayed them after they all got influenced by Bashar Al-Assad.
He lives up to his name, that's because he's 1. He's a space shuttle, 2. He spends a lot of time just going into space and stuff, and 3, he makes pictures of him sending good guys to space on 4chan all the time.
Since he's one of the five components of Bruticus, and he lives in South Brazil, it also means that he is one of the five RULERS of that country, meaning it is a pentarchy (Meaning consisting of five rulers).
He coins that his worst nightmare ever is Super Meat Boy, and that's because he became an astrologist just like him, and Blast Off yelled to that poor little guy: "WHEN IT COMES TO ASTROLOGISTS, THERE CAN ONLY BE ONE!!!!!".
Eventually, he and the rest of his gestalt buddies were forced to team up with the other bad guys and all the heroes in order to defeat the ultimate and immensely powerful threat of This is Bob.
During the war, he and the other four took over West, East, and North Brazil, and named it "Bruzil", named after their combined form.
Blast Off and the others then abandoned their "nation" of "Bruzil" and betrayed Bashar Al-Assad, and then Diesel 10 easily took it back due to that Blast Off and his pals wanted new allies, so then he joined the Teletubby Army, and gained new friends like Alt 2.0, Salamence, Flower, Painis Cupcake, and even Dipsy.
Blast Off says he's a "satanist", but Googolplex rejected him from his empire because he hates him.
Ad blocker interference detected!
Wikia is a free-to-use site that makes money from advertising. We have a modified experience for viewers using ad blockers

Wikia is not accessible if you've made further modifications. Remove the custom ad blocker rule(s) and the page will load as expected.