2 Hour Long Solo are a stoner doom/drone metal band with band members from all over the world. They have released five albums so far. They are known for their incredibly long studio recordings, hence the name. Originally they were just going to create stupid songs for fun, but Cyber-Dee blackmailed them into making good music. Not wanting to get decapitated by the Undefeatable, they did so, and eventually became one of the most well-known metal bands of the decade (2110). Recently, Saki Miyanaga, the bassist and vocalist, left the band to convert back to terrorism, and her role has since been filled by Kaori Senoo on vocals and Stephen O' Malley on guitars. Bob the Builder used to be a member of the group and was going to appear in the movie, but was fired by the team's boss Zero upon realizing he kept using Cementygas
Albums
Nazareth - 2103, Mario Cookie Records. (One 65 minute song.)
Cyber Dee Rules the Divine - 2105 Southern Bored Records. (10 songs.)
SHOOOOOOM - 2107 Swansun Records. (8 songs.)
Epic - 2109 Swansun Records. (6 songs.)
The Great Idiot Nobody Cares About - 2110 Awesomeness Records. (7 songs.)
Band Members
Johnny C,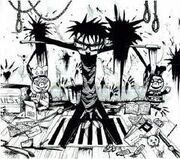 Top
Saki Miyanaga
,and
Squidward
, bottom.
New members are Kaori Senoo and Stephen O' Malley.
Ad blocker interference detected!
Wikia is a free-to-use site that makes money from advertising. We have a modified experience for viewers using ad blockers

Wikia is not accessible if you've made further modifications. Remove the custom ad blocker rule(s) and the page will load as expected.